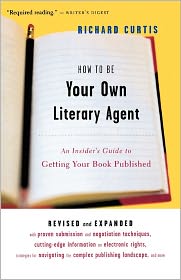 As a freelance writer and a novelist hopeful, I am of course interested in the process of getting a book published. And as a compulsive do-it-yourselfer, I want to be able to handle the process myself - or at the very least understand it!
How to Be Your Own Literary Agent
is almost a necessity for anyone who wants to publish a book - whether or not you intend to get an agent. The book basically explains an agent's job - everything from how they decide whether to represent a book, to how they negotiate a contract.
For authors who want to get published
without
using an agent, this book is a basic how-to guide. For authors who
do
prefer an agent, the book will ensure that you understand the process well enough to keep tabs on your agent - and make sure he or she is truly working in your best interests! Regardless of which camp you fall into, the information contained in this book will enable you to keep from getting screwed, by either the publisher or your own agent.
Definitely a good book for any aspiring author to own!