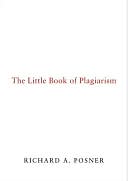 Who better to write a book about plagiarism than a judge?
Actually, I'm rather impressed. Richard A. Posner's
The Little Book of Plagiarism
is surprisingly short and to the point. Really. It's only about 100 pages long.
For being so short, though, it's chock-full of information. He starts out talking about the scandalous
Kaavya Viswanathan case
, where a young chick lit author from Harvard was found to have plagiarized substantial material in her book,
How Opal Mehta Got Kissed, Got Wild, and Got a Life
. The book was
quickly withdrawn
.
I'm only 30 pages into the book (although that is, of course, nearly a third of the way through it). So far, the book has been a pleasant but information-packed ramble into the realm of plagiarism: what it is, how copyright infringement differs, and who has committed these literary crimes. Not even the phenomenon of "paper mills" - companies which hire writers and produce term papers for lazy students - escapes his analytical eye.
This should be an enjoyable - albeit brief - read.