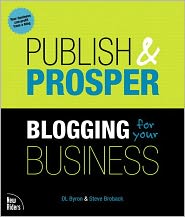 Edit 7/26/2011: It appears the physical edition of this book is out of print, so the link here goes to the ebook edition.
Thanks to a tremendously busy work schedule, I've gotten a little behind on blogging about my "Livre du Jour," so I'm going to fill you in on what I'm reading right now and go back and fill in the holes as I have a chance.
My current read is
Publish & Prosper: Blogging for Business
. Considering where I am posting this blurb, I think a lot of my readers should find this book interesting! We all hear that you can make money from a blog, either by using it to market or sell ad space, but so many of us never actually achieve what we'd like with our blogs. In this handy little book, DL Byron and Steve Broback explain exactly how to make your blog work for you.
Even though I've been blogging for about a year and a half, have had my own website for more than two years, and write web copy all the time, I'm learning a lot from
Publish & Prosper
. Sometimes the book fills me in on
why
something that I already do works so well. Other times it explains concepts that I've found a little challenging (and does a very good job of simplifying and speaking to the lay person, I should add!). The book also discusses things like the different types of blogs, blog systems, and features available. What a terrific resource for any dedicated blogger!
Edit 4/5/2011:
I also blogged about this book on my old blog Reading 4 Writers, but since I shut down that blog earlier this year, I brought the post over to Livre du Jour. You can read that post
here
.