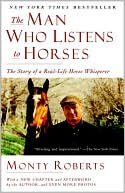 My current goal is to learn as much as possible about horse training methods and theories -- in about a month,
we are moving my horse
from the inlaws' place in the country in order to have him nearby. I am very excited, as it has been difficult not to be able to see Panama very often this past year. I want to start working with him, as he has had little to no training, but I need to find out how to start.<
The Man Who Listens to Horses
is, as it turns out, a great place to start. I've known that I don't want to use any harsh training methods, and Monty Roberts is living proof that I don't have to. His book is very detailed in describing the body language of horses, which he calls "Equus," and how he uses it in order to train them.
Of course, since the book is also told in the style of a memoir, there are plenty to hold one's attention, too. The stories of his childhood, his abusive father, and his early encounters with horses are fascinating. In fact, I stayed up past my bedtime last night because I was so engrossed in the book. :o)
If you are a horse person and have not yet read this book, I highly recommend it. The insights Monty offers are quite valuable for someone who wants to train their horses in a way that fosters a respectful relationship for both parties. And even if you think "gentling" horses instead of breaking them is hokey, you may still find Monty's personal experiences intriguing.