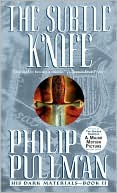 I just finished reading
The Subtle Knife
, the second book in Philip Pullman's "His Dark Materials" trilogy. I only recently finished the first book,
The Golden Compass
, but the second book was shorter and a faster read.
Unfortunately,
The Subtle Knife
had a cliffhanger ending. The story is obviously waiting until the third book to come to any sort of resolution. I would normally be starting the fourth book right away, but Michael is only about halfway done with it right now.
I guess I'll have to find something else to read in the meantime.