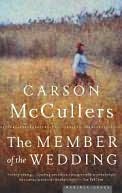 I heard about Carson McCullers's
The Member of the Wedding
thanks to NPR: Another author I have read,
Augusten Burroughs
,
reviewed the book
on NPR's website.
The book was short and written in a very different style than I am used to, but it was quite good. The narrative is rather sinuous, almost like the stream-of-consciousness narrative style of Virginia Woolf's
Mrs. Dalloway
(but not as annoying, and with more of a plot!). The main events in
The Member of the Wedding
take place only over a couple of days, but the narrative is constantly meandering into the past and then returning to the present again, pulling in the back story as it goes along, and weaving it all into one seamless piece.
There is also a fair amount of foreshadowing and suspense regarding the main character, a 12-year-old girl named Frankie, and a soldier that she meets. The hints of what was to come surprised me, as did the outcome of her relationship with the soldier, as I didn't expect a novel published in the 1940s to be so explicit -- I usually think of literature from that period as being rather conservative.
The ending was somewhat startling, too, as it demonstrates the degree of change possible in the attitudes and beliefs of a girl that age.
The Member of the Wedding
is a pretty accurate and poignant story of what it is like for a girl to be on the verge of adolescence, but still a child all the same.