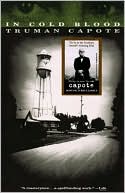 Truman Capote's
In Cold Blood
is another book that I checked out of the library in honor of
Banned Books Week
about a month ago. Thankfully, I have enjoyed this one much more than the last one I read,
Beloved
.
Although
In Cold Blood
is a highly researched account of a real murder and trial, it is told in story form. Capote gets you into the killers' heads, which is quite a feat in and of itself. He also weaves real sources into his telling of the story: letters, statements, and other documents. Although he does not say specifically who he interviewed, he also makes a reference in the beginning of the book to certain interviewees, without whom the book could not have been written (or at least, not so completely).
I seem to remember classmates reading this book, possibly even in high school, but somehow I never read it until now. Being a literature major, I'm actually quite shocked that I never did. I have to say that I think this is one of the masterpieces of modern literature, and well worth the time it takes to read it.