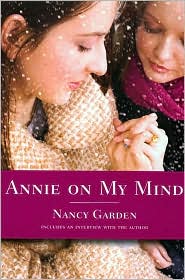 Nancy Garden's
Annie on My Mind
is the fourth in a list of books I checked out of the library during
Banned Books Week
in October. The others were:
In Cold Blood by Truman Capote
Beloved by Toni Morrison
The Great Gilly Hopkins by Katherine Paterson
I found with some of these — such as
Beloved
— that simply being a banned book didn't mean I would find them meaningful or inspiring. However, I was really impressed with
Annie on My Mind
. It was beautifully written... But before I can say more, I need to explain what this book is about.
Annie on My Mind
is a story of two high school-age girls who fall in love. As a result, in addition to the normal confusing and overwhelming feelings of first love, the book explores the difficulties of realizing you're gay at this age.
What I found so fascinating is how Nancy Garden made it all so believeable — or maybe "immediate" is a better word. Basically, she wrote the story in such a way that it is easy for a straight person to suspend disbelief, so to speak, and see things from the eyes of a young lesbian.
Which is no doubt why it has been challenged. Goodness knows, there are people out there who refuse to empathize with gays and lesbians, and who
definitely
don't want anyone else doing so, either.
Another reason I think
Annie on My Mind
is banned book material is the harsh way it illustrates the prejudices and discrimination gays and lesbians face. There are many appalling examples of discrimination in this book, but again, told in a way that makes the reader see it through the lesbian narrator's eyes. I'm sure right-wing anti-gays see that as very dangerous: Heck no, we don't want to make gays and lesbians seem human or — God forbid —
normal
!