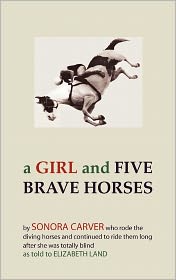 Note: This book is no longer out of print! The image link will take you to Barnes & Noble, where you can order an inexpensive paperback reprint edition.
Every once in a while, a book comes along that really tests your resolve to read it. That's the way it was with this book.
A Girl and Five Brave Horses
is technically the basis for the Disney movie
Wild Hearts Can't Be Broken
, which is loosely based on the life of Sonora Webster Carver. Unfortunately, the book is out of print, and has been for a very long time — as far as I can tell, the first edition (in 1961) was also the last edition printed. Even many libraries don't have it; I had to order it through an interlibrary loan.
Since the book is hard to find, yet has attracted a bit of a cult following, its value is phenomenal — Amazon's current price of $498.50 being the cheapest I've seen it, and that's for an
ex-library
copy (which usually devalues a book considerably.) Being a book collector and a horse lover, I would love to own a copy — but being a writer, I needed to find a cheaper (read: free) way of reading it, which is why I settled for checking it out for the library.
I don't really expect that anyone is going to buy a five hundred dollar book, but I'll include the Amazon link anyway, in case anyone wants to look into the book a little more.
Basically,
A Girl and Five Brave Horses
is the autobiography or memoir of Sonora Webster Carver, one of the most famous (if not
the
most famous) of the horse diving girls in the 1920s, 1930s, and into the 1940s. Sonora wasn't any ordinary diving girl, though: She was blinded in 1931 after she hit the water with her eyes open, yet she continued diving for 11 more years afterward.
As is typical for Hollywood and Disney, the story as it is told in
Wild Hearts Can't Be Broken
is very romanticized. Sonora wasn't a runaway; her mother actually suggested she join the diving act in 1923, when she was 19. She and Al didn't have some kind of whirlwind romance; they had been working alongside one another for six years before they married, and even then he had to talk her into it.
One thing the movie did manage to do justice to was Sonora's bravery and spirit. She really was that determined to continue diving after she was blinded. She never wanted to be treated any differently, and as a result, she dove blind for five years before a reporter finally found out.
Wild Hearts Can't Be Broken
is a wonderful movie, a (somewhat) true-life Disney fairy tale. However, for anyone who is truly interested in Sonora Carver or her experiences diving horses, I suggest getting your hands on
A Girl and Five Brave Horses
any way you can.
Other Resources:
*
Yahoo diving horses group
, an effort to get
A Girl and Five Brave Horses
republished
*
Sonora Webster Carver
on Wikipedia
*
The Diving Horses of Atlantic City
, by Susan MacDonald: descriptions, eye-witness quotes, and pictures
*
Article by Mike Cox
about Doc Carver (Sonora's father-in-law), the diving horse show, and Sonora
* YouTube video
"Last Days of the Steel Pier"
— the video of the diving horse, and the two pictures that follow it, are of Red Lips, Sonora's favorite horse; the color picture is of Sonora, and I'm assuming it's her riding Red Lips in both the video and the photograph that follows
*
Part 1
,
Part 2
, and
Part 3
of interviews with Allen "Boo" Pergament, a historian and friend of Sonora's, about the Atlantic City Steel Pier