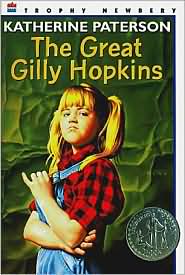 I'm really behind on my book list, so over the next few days I'm going to try to catch up to where I am right now.
I read Katherine Paterson's
The Great Gilly Hopkins
way back in November, about a month and a half ago. (Yes, I'm that behind!!) Like
In Cold Blood
and
Beloved
, reading this book was my tribute to October's
Banned Books Week
.
The fact that
Gilly Hopkins
has been challenged both amuses me and makes me angry. Reading it, the only reason for banning it that I could discern was the fact that it tells the truth about what foster care is like for many kids — and as far as I can tell, Paterson does a pretty good job of getting into the head of a foster child and demonstrating where some of the discipline problems might come from.
But really, we can't have our nation's children — let alone the adults — knowing what foster care is really like. They might actually sympathize with foster children!