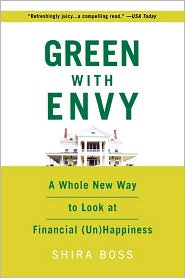 I heard about
Green with Envy
when NPR ran a story about
Shira Boss
back in November. I promptly placed a hold on the book at the library.
The book was a quick read, but very compelling. Boss's writing style is very readable, and she knows how to create just enough interest in tension to keep you reading.
In fact, I would say that she uses the very same aspect of human behavior that she is warning against — a morbid interest in other people's finances — in order to hook her readers.
Regardless of why you want to keep reading, the simple fact is that this book is hard to put down. My husband read it after me, and finished it in about 24 hours — not a frequent occurence for him.
Green with Envy
is one of those books that makes you think about your spending habits and your debt. Most of us are not as bad off as the people Boss features in this book, but it reminds us how easy it could be to
become
them. Running up credit card debt is actually a pretty painless process — it's
after
you've run up more than you can handle that the pain begins to hit.
I always like reading books (or watching documentaries) about the evils of overspending, as it usually encourages me to be more careful with my finances for a while. (Not that I'm all that bad about it — I don't buy much for myself, actually, but I still need to focus more on paying down my debt.) Unfortunately, the effects of
Green with Envy
were destined not to stick with me for very long, because I read it just before Christmas — when Christmas shopping was in full swing.
Still, it did galvanize me into creating a game plan for paying off my credit card debt, and following that will be one of my New Year's Resolutions this year.