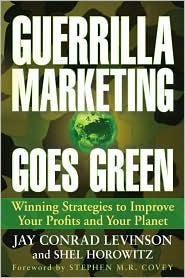 Note:
According to the
author's website
,
Principled Profit
was withdrawn when he published his new book,
Guerrilla Marketing Goes Green
, which includes 95 percent of the original contents of
Principled Profit
. The image link will take you to Barnes & Noble's listing for the new book, but remember that
this review is for Principled Profit!
I heard about Shel Horowitz's
Principled Profit
when I attended his workshop during the
Muse Online Writers Conference
. Unfortunately, I read this book a little over a month ago, and I'm finding it difficult to recall my impressions.
One thing I do remember is how it galvanized me on the idea of honest marketing. All of us know the annoyance of marketers who just won't go away — whether phone and door-to-door solicitors who won't take no for an answer, or stores with a "used car salesman" approach that makes you forget all about your purchase in favor of running far, far away.
Horowitz takes a totally different approach toward marketing. One thing he talks about is targeting only those folks who are most likely to make a purchase, rather than hitting completely uninterested consumers over the head with your product or services. It benefits both you and them: It saves you time and money, since you're not wasting it on people who simply aren't interested, and it saves the uninterested people the hassle and annoyance of fending off poorly planned marketing attempts.