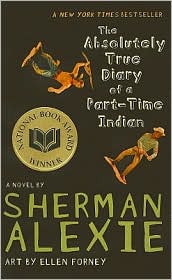 This is the second time I have taken a break from reading
Unbending Gender
to read another, shorter book. The main reason for taking the break is that this book, Sherman Alexie's
The Absolutely True Diary of a Part-Time Indian
, is due back to the library soon, and I don't want to have to put my name on the wait list again.
I heard about this book on NPR, when it won the
National Book Awards for Young People's Literature
. I didn't realize it was so long ago, but according to the NPR story that was two months ago! Since I've had the book checked out for almost three weeks, that means I was on the hold list for more than a month before I got it.
I started the book last night, and so far I'm several chapters into it. The book is a fast read (exactly as YA fiction should be). It's also written in an authentic voice for a young teen, and although most of us didn't have the health problems the main character has endured, chances are most of the book's readers know what it's like to be picked on.
I also think
Part-Time Indian
is a great window into life on an Indian reservation — a life that most of us are so removed from that we don't even realize that third-world conditions exist within the boundaries of the richest country in the world.