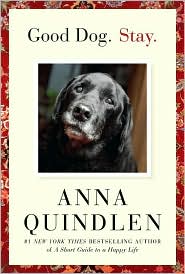 Don't get too excited — I'm actually not done with
Unbending Gender
quite yet. I took a short break to read Anna Quindlen's
Good Dog. Stay.
, a short memoir focusing primarily on her dog Beau, but also touching on other dogs she has owned over the years.
Dog lovers will find a lot of truth in
Good Dog. Stay.
It's beautifully told, capturing perfectly all of the joys and heartbreaks of owning a dog.
The book is actually more of a personal essay in length, with lots of adorable dog pictures thrown in. As a result, it's a quick read, and one I highly recommend to any dog owner or dog lover who has an hour to spare.