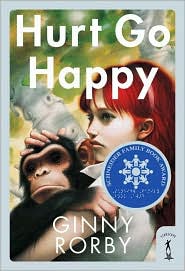 I finished Ginny Rorby's
Hurt Go Happy
in one day. Actually, it was within a 12-hour time frame — I started it yesterday afternoon while I was
waiting for my sister
at the doctor's office, and I finished it last night at about 2:30 am. I didn't mean to stay up so late reading it, but I just couldn't put it down. I read little snippets — a few paragraphs here and there — at every opportunity during the day, something I used to do as a kid.
Hurt Go Happy
is a wonderful, but at times heartbreaking, story about what it really means to be human. The main character, Joey, is a deaf girl whose mother doesn't want her to learn sign language. Isolated in a world of near-silence, Joey makes friends with her neighbors, a doctor and his chimpanzee who communicate via sign language.
The story is about a series of battles that Joey must win with her mother, each of which makes her a little stronger. The first is to defy her mother's wishes and start learning sign language anyway. The second — which is not fought by Joey alone, but with the help of her kind neighbor — is to convince her mother that learning sign language is the right thing. In order to do this, Joey and Charlie have to also make her mother see that she didn't want to Joey to learn ASL because she wanted to protect
herself
, not Joey.
As the story goes on, the battles — and the victories — get bigger. Ultimately, it is a battle to do what is right for Sukari, the chimp.
The story of Joey and Sukari is based off of the real-life story of Lucy Temerlin, a young chimp who was raised like a child.
Hurt Go Happy
sends a powerful message, not only because the reader knows it is based on a chimpanzee's real experiences, but because of the emotional bond Rorby creates with the reader.
This book came into my life at an opportune time. Lately, my love of animals has inspired me to begin looking into cruelty-free products — that is, products that aren't tested on animals
and
don't use any individual ingredients that are developed with animal testing. Reading
Hurt Go Happy
has solidified my resolve to seek a cruelty-free lifestyle.
Like
Reaching for Sun
,
November Blues
, and
The White Darkness
, I found
Hurt Go Happy
on my library's website, on a page listing
recent award winners
. Like many award winners,
Hurt Go Happy
addresses some pretty heavy moral issues. Unlike many award winners, it does it in a way that makes you feel intimately involved. I can't think of any book more deserving of widespread recognition than
Hurt Go Happy
.