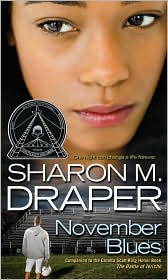 Like
Reaching for Sun
, I found Sharon M. Draper's
November Blues
via my library's list of
award winners
.
I know why this book is an award winner. It deals with November Nelson, a 16-year-old girl who finds herself pregnant after her boyfriend, Josh, has died. The book offers a lot of information for teenage girls about the physical experience of pregnancy and the development of the fetus. It also addresses serious topics such as how much baby stuff costs, and how having a baby can derail all of your plans for your future: your education, work, dating, etc.
Unfortunately, I think the book is a little preachy on these subjects. The conversations during the doctor's visits end up sounding like a paraphrased textbook, and as a reader I'm getting really sick of "hearing" November whine about being pregnant. I'm pretty sure the author is trying to discourage teen girls from getting pregnant by making it sound really miserable, but it's rather poorly disguised, and is going to turn a lot of teen girls off of
the book
instead.
There is still a story in
November Blues
, and I have kept reading because I want to see what happens. However, I find that the lectures-disguised-as-fiction often detract from this story, stereotyping the characters and limiting their development, and as a result I'm looking forward to being done with the book.