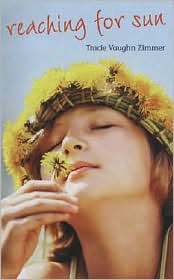 I found Tracie Vaughn Zimmer's
Reaching for Sun
on a list of
award winners
on my library's website. Like
Patricia McCormick's SOLD
, the story is told through a collection of short
vignettes
. Usually anything that even resembles poetry scares me away, but I really like
SOLD
, so I thought I'd give this one a try, too.
The book was short and, thanks to all the white space on each page, a fairly quick read. It was also a very ordinary portrait of a girl in special ed — the main character and narrator is a seventh-grader with cerebral palsy.
One of the most striking moments for me in this book was when Josie's new friend, Jordan, asks her what she hates most about cerebral palsy. Her automatic response was that she hated other people thinking she was retarded.
The book won the Schneider Family Book Award for a Book that Embodies an Artistic Expression of the Disability Experience for Child and Adolescent Audiences — middle school category. At first I wondered what made it an award-winner — like I said, it seemed so ordinary. But after some thinking, I realized that was the beauty of it:
Reaching for Sun
portrays Josie as any other seventh grader, despite her disabilities.