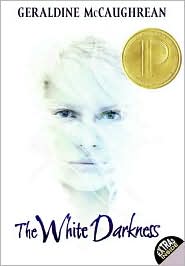 I just finished reading
The White Darkness
by Geraldine McCaughrean. This was a riveting book, and as a result only took me a few days to read, even as busy as my schedule has been.
Like
Reaching for Sun
and
November Blues
, I found this book on a list of
award winners
on my library's website. The other two were good but not (in my opinion) spectacular;
The White Darkness
, on the other hand, blew me away. It has been a while since I've felt so entranced by a book!
If I had to describe
The White Darkness
in just a few words, I would call it "beautifully crafted." All of the elements in the story — Sym's imaginary friend, hints of dishonesty and ulterior motives, and the steadily building suspense — are effortlessly woven together. The reader finds it easy not only to suspend disbelief, but to feel like a part of the story itself.
One of the things I really liked was McCaughrean's use of subtlety. The circumstances of the story hint at what is really going on, but since it is told from Sym's point of view, she doesn't catch on until near the end. This technique is especially powerful because while Sym is able to explain things away with a child's naivety, the reader is painfully aware that a sinister truth is slowly being revealed.
Finally, I couldn't help but notice that the book has — in spades — one of the most important characteristics of young adult fiction: The young protagonist has to depend almost solely on herself. Every adult in the book is either completely ineffectual, using her for their own gain, or (possibly) a figment of Sym's imagination. Ultimately, this is also a coming-of-age story, where a girl is forced to see reality and become a young woman, at the same time as she must struggle for her very survival.