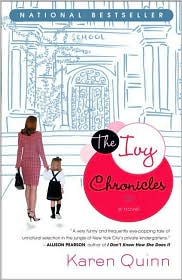 Note: The image links to the cheapest edition at B&N, which is a bargain book, a paperback for only $2.99. It says quantities are limited, so be sure to get yours while they are still available at this price!
I have a
love-hate relationship
with chick lit. Some of it I find really entertaining, while some is
brainless at best
.
Karen Quinn's
The Ivy Chronicles
happens to fall under the "really entertaining" category.
Chick lit seems to have a pretty reliable formula. They almost always involve career changes, wealth, a right-versus-wrong conflict, and a good-looking love interest. They usually end with the main character losing her job at the end of the book, but discovering that the loss is actually a good thing. And, of course, they always end with a hint of happily-ever-after for her and her love interest.
Interestingly, chick lit is usually written in first person, which is usually described as a no-no in the publishing industry.
The Ivy Chronicles
is no exception. The main character, Ivy Ames, gets laid off from her job and discovers her husband is cheating on her, all in one day. Suddenly an unemployed single parent, she needs to find some way to support her two daughters. After downsizing her yuppy lifestyle, she starts her own consulting business — for getting yuppy parents' preschoolers into the best private schools.
Between the predicaments Ivy finds herself in thanks to her new life, to the antics of the rich people she works for,
The Ivy Chronicles
is quite amusing. Her dilemma also seems more realistic and less distasteful than certain other
chick lit books
I've read lately.
This book is not ground-breaking by any means, but it's good fun!