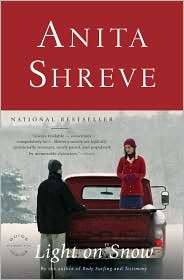 I just finished reading
Light on Snow
Wednesday night. It had been a while since I'd read anything by Anita Shreve — the last one was
Sea Glass
, a lovely novel that I read several years ago, and which I highly recommend.
Light on Snow
was also a beautiful story. Nicky Dillion and her father live in a remote cabin just outside of a small town, where they moved to get away from the unspeakable tragedy that occurred two years earlier, when Nicky was ten. They find a baby abandoned in the woods one night during a walk, and a few days later, a mysterious young woman shows up on their doorstep.
The remarkable coincidence — what if they had walked in another direction? or not gone for a walk at all? — is a powerful theme in this novel; just as it was nothing more than good timing that enabled them to save the baby's life, it was nothing more than
bad
timing that resulted in the tragedy that still colors their lives, two years later.
Light on Snow
is about healing, but true to Anita Shreve's talents, it's not too obvious or too contrived. This is a great book, and definitely one worth reading.