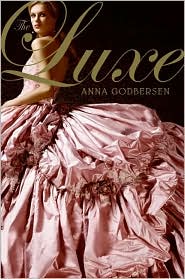 I saw Anna Godbersen's
The Luxe
during one of me and my husband's visits to the bookstore. Michael and I enjoy hanging out at Barnes and Noble or
Tattered Cover
, where we can get coffee to drink while we read, browse through the newest releases, or (in my case) work.
I have been on a YA kick lately, so
The Luxe
seemed likely a likely choice to follow
The White Darkness
and
Hurt Go Happy
. I have to admit, though, it was a very different kind of book. Even though
The White Darkness
was very suspenseful,
The Luxe
was a different kind of suspense. Even though both books dealt with issues such as betrayal and sex,
The Luxe
struck me as being much more adult.
While I did not find
The Luxe
as moving as the others (and didn't expect to), I enjoyed it immensely. The mystery was very cleverly woven, and Godbersen's world of wealth, duplicity, and indulgence felt historically accurate and very believable.