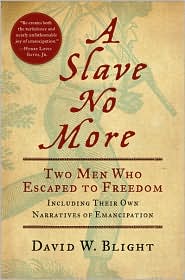 Several nights ago, I finally finished the nonfiction book I was reading:
A Slave No More
, by David W. Blight.
Well, technically the entire book isn't by David Blight. The first half or so is, but the second half is comprised of two previously unpublished slave narratives, written by young male slaves who escaped during the Civil War.
I personally found the slave narratives the most interesting, but Blight's commentary was admittedly very well done. He had researched both men, and was able to pull in that research and other historical facts as he discussed the men's narratives.
I found out about this book back in December, when I heard a
radio spot
about it on NPR. The half-hour-long show includes interviews with three generations of descendants of one of the former slaves, John Washington. The women interviewed on the show didn't know that the narrative existed — or that their forebear had even been a slave. The radio show is definitely worth listening to, and I highly recommend it to anyone who is interested in reading the book.