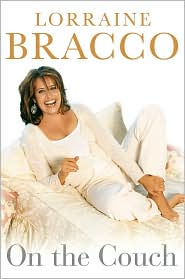 I finished reading this book,
On the Couch
by Lorraine Bracco, just last night.
My husband and I are big
Sopranos
fans, so when I saw this book I just knew I had to read it.
I don't remember where I first heard about the book, but it was only a few months ago, so it couldn't have been from the
NPR story
. In any case, I was glad to took the time to read the book. Bracco's story is one that I think many people, especially women, can relate to: the depression she went through, the emotional abuse she put up with from her second daughter's father, and her struggle to raise her girls well as a single mom.
Her descriptions of her relationship with Harvey were especially poignant for me. I went through an abusive relationship in 2003 and 2004 that was very similar; although in my case there was no child to fight for custody over (thank goodness), the possessiveness, jealousy, and manipulation were echoes of Bracco's relationship with Harvey Keitel.
I respect Bracco's straightforwardness about subjects such as financial troubles and depression. This is a very engaging memoir, and a worthwhile read.