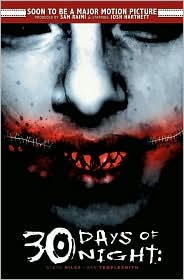 I snuck this one in just last night, taking a short break from my current read,
Change of Heart
by Jodi Picoult.
30 Days of Night
was my first-ever graphic novel. I usually don't go for that kind of thing, but the movie was really good so I was curious about the book. I also want to read the sequels to find out what happens after the movie ends, so I figured I should probably read the first one first.
Most of my observations about the book are actually observations about graphic novels:
* I had to keep reminding myself to slow down and look at the pictures, rather than just reading the dialogue.
I'm not used to having artwork to look at, let alone a handful or more of illustrations on every page. Often I caught myself skimming along just reading the dialogue, and had to make myself go back and look at the pictures for more clues about what was going on.
* There is a lot going on in the illustrations.
There are many visual cues buried in the illustrations, so you can't depend solely on the dialogue. I'm there there is plenty that I missed in the parts that I skimmed.
I actually found the graphic novel format a little overwhelming — having both dialogue to read and illustrations to look at made it difficult to keep up with everything. You can miss a lot more of what's going on this way, because the interpretation of pictures is more subjective. However, I also get the feeling that you could reread this book over and over and get something new from it every time — which is perhaps why fans of graphic novels like them so much.