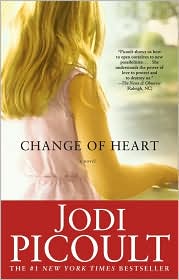 I don't know what it is about Jodi Picoult's books that make me forget about needing sleep.
Last night I finished
Change of Heart
. I was only about a quarter or so of the way through, which meant that by the time I finished the book, it was technically
morning
— 5:30, in fact. It made getting up (at 11:30!) difficult, but it was well worth it.
I've stayed up all night reading other books by Picoult:
My Sister's Keeper
was the first, and I did it again with
Salem Falls
. Her books often involve controversial issues, riveting legal or courtroom suspense, and a surprise climax. Moreover, her characters are very human and compelling, which makes you all the more unable to put her books down: You genuinely care what happens to the characters.
Change of Heart
was no different. Picoult looks not only at the blurred lines between right and wrong (a frequent theme in her books), but also the blurring between government and religion. I like her portrayals of Christianity, established religion, and my favorite of the old "heretical" religions: Gnosticism. It's a fantastic story, and I
highly
recommend it!