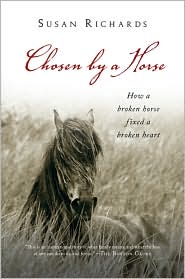 Saturday night I finished reading
Chosen by a Horse
by Susan Richards. Probably unsurprisingly, I read this book in just a couple of days: The topic is one that is very dear to my own heart.
In this memoir, Richards tells about rescuing Lay Me Down, a neglected brood mare and former race horse. Since I also own a
rescued horse
, I could relate to many of her experiences.
Of course, as most pet-related memoirs are,
Chosen by a Horse
is a little sad. However, it's also hopeful in its own way, because it demonstrates how much a strong connection with an animal can benefit other areas of your life. In this case, Richards describes how watching and interacting with Lay Me Down — a sweet-tempered mare, despite the mistreatment she had experienced at the hands of humans — taught her more about trust, love, and forgiveness.