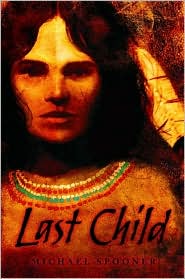 It's been a while since I've read historical fiction, let alone young adult historical fiction (one of my favorite genres), so this book was a nice treat.
Last Child
, by Michael Spooner, is about a half-white, half-Mandan girl growing up during the smallpox epidemic of 1837. It's more than just a story of a historical event, though — it's also the story of a girl who tries to live in both white and Mandan culture, but doesn't feel like she belongs to either.
This is one of those rare books that I wasn't sure I was going to like during the first few pages, but ended up liking it enormously. I read about half of it one afternoon (instead of working), and finished the other half by reading Wednesday and Thursday nights at bedtime.
The book felt pretty historically accurate, and included an appendix with information about what was fiction and what really happened. (I always love it when authors of historical fiction do that.) Anyone who likes historical fiction, Native American subjects, or really good young adult fiction should enjoy this book.