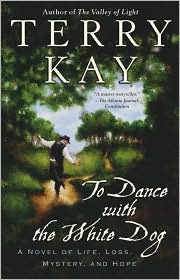 Last night I finished reading
To Dance with the White Dog
, by Terry Kay.
Note: The image link will take you to the paperback edition of the book at Barnes & Noble. There is also a separate listing for an ebook edition
, if you prefer.
I came across this book in an interesting way. Around Christmas I was chatting with my sister's boyfriend's mother, telling her about our dog,
Grace
. One of Grace's claims to fame is that she is the biggest, prettiest, whitest American white shepherd we've ever seen on our walks. That reminded my sister's boyfriend's mother about a book she'd read,
To Dance with the White Dog
, and she recommended it to me.
I don't think Grace is a ghost dog (even if she does resemble the descriptions of White Dog in the book), and I wasn't really picturing her as the dog in the book, but I did really like the book. The old man is pretty spunky, and his escapades — faking out his daughters to make them worry, wearing a mismatched suit to the bank, etc. — made me laugh out loud. (His daughters
are
a little annoying, too, so they deserved it.)
It took me a while to realize it, but the story takes place in the mid-seventies, even though the book was published in 1990. I found it interesting to hear about the main character's past, to realize that many of the memories described in the book were from the early 1900s. The book doesn't come right out and state the year until towards the end, but it mentioned the old man's age at one point and drops a few more clues periodically to help you figure it out.
I think it's also interesting to know that
To Dance with the White Dog
is based on the story of Terry Kay's own mother and father. The death of his mother, and the appearance of White Dog, all happened in his family like they did in the book. Of course, the book is told as a fictional story separate from the author, of which I think he did an excellent job.
This is a wonderful book, and I shouldn't be surprised if it is "rediscovered" someday as a classic of American literature.