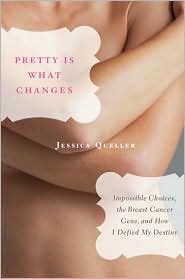 Note: The image links to the bargain book at B&N, where you can get the hardcover for $4.48. This price will only be available as long as quantities last, though, so get it while you can!
I actually finished this book a couple of days ago, but I've been so busy that I forgot to blog about it until now.
I first heard about Jessica Queller's
Pretty is What Changes
via
a story on NPR
. Of course, I was as appalled as the rest of the world probably is at the thought of a woman having her breasts surgical removed by choice, so you could probably make the argument that I read Queller's book out of morbid curiosity.
I have to say that Queller makes a great case for why she made the decision she did, but she also does a good job of relaying what she was feeling at the time. In the beginning of the book, when she describes finding out that she has the breast cancer gene not long after her mother's death from ovarian cancer, you are as horrified as she is at the thought of having a prophylactic double mastectomy. As she comes to terms with it, though, the reader is able to as well.
This is a great book that touches on subjects such as how pretty is defined and how far a person will go to defy death. And although Queller doesn't address this topic directly, her experiences also point to how strongly we are socialized to believe that marriage and motherhood deterine our success and fulfillment as women.