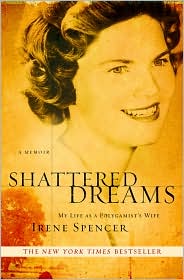 Shattered Dreams
is a memoir by Irene Spencer, a woman who lived for 28 years as a polygamist's wife.
I didn't choose this book because of the recent raid on a
Texan polygamist colony
— I actually saw it at the library, in a stack of books that the librarian was checking in. I remembered the title, and looked it up online when I got home. It looked interesting, so I placed a hold on it using my library's online catalog.
Shattered Dreams
is a beautifully done memoir. Part of Spencer's skill is the way she separates her current views of polygamy from the way she felt about it when she was younger. This separation enables her to matter-of-factly describe living conditions and ways of life that her readers would find absolutely horrific.
The end result is, of course, that by the time Spencer actually
says
that polygamy is horrible, her readers no longer need convincing — they've already read about the extreme poverty, delusional leaders, and horrific situations that Spencer had endured for 28 years.
Last August, I read a similar book:
God's Brothel
, by Andrea Moore-Emmett. However, that book was a collection of personal essays about different women's experiences with polygamy. This one is almost more horrific because it traces one woman's entire life in the fundamentalist Mormon community, demonstrating the extent of the suffering plural wives — and their children! — endure.