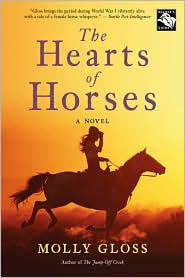 Note: The image links to the bargain book at B&N, where you can get the paperback for $2.99. Because there are limited quantities this price won't be available forever, so get it while you can!
I bought Molly Gloss's
The Hearts of Horses
on impulse during one of my last trips to the bookstore. The novel is about a young woman during World War I who works as a "broncbuster," someone who breaks and trains horses — except Martha does it using natural horsemanship, rather than the brutal way that horses were typically broken back then.
Although the book is fiction, the descriptions of Martha's training methods are ones that I recognize from real life (as I am a
horse owner
). For instance, in one scene Martha makes her horse spin in fast, tiny circles as punishment for misbehavior. I've seen my trainer to that to my own horse when he is being rude or not listening.
Another thing I noticed about this book was that it was written in more of a literary style. It wasn't one of those books that you can't put down, nor was it a particularly fast read, but it was still compelling in its own way. I would highly recommend it to any horse lover, particularly one who is interested in natural horsemanship.