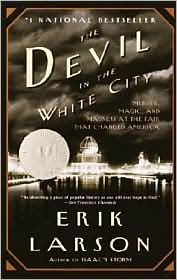 Although Erik Larson's
The Devil in the White City
took me a while (about two weeks) to read, it was one of the best books I've read lately. It's nonfiction, but written like a novel. What is so amazing about this book is the amount of research that went into it — Larson took the information from goodness knows how many sources, put it all in chronological order, and turned it into a beautifully compelling book.
The Devil in the White City
is about two different, but irrevocably intertwined, subjects — the World's Fair in Chicago in 1893, and a serial killer who operated just around the corner from it. Larson alternates back and forth between the story of building and running the fair, and the story of the killer's victims. With each victim's story he draws you in and makes you hope that she (they were usually women) gets away in time, but of course she never does. And presiding over all of this, of course, is the White City (the fair), with its many successes and failures.
As you can probably tell, I highly recommend this book. The detail is fascinating, which is why it took me so long to read — you get the feeling that every single world is important in some way, and you just can't bring yourself to skim any of it.
I think I've found myself a new favorite author...