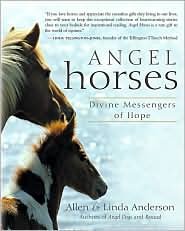 At this point I start forgetting again which book I read next, but I'm pretty sure it was
Angel Horses
by Allen and Linda Anderson. At any rate, I read it somewhere around this point.
Anyway, I heard about this book several months ago, when a fellow writer sent me information on the Andersons' next anthology writing contest. Their previous books are listed on their website. I remember making a note of the
Angel Horses
book, but I forgot about it (and the contest) until I saw the book at Tattered Cover a few weeks ago.
Seeing the book reminded me not only that I was interested in reading it, but also that I wanted to enter the writing contest. The book is technically "research" as it demonstrates what they like to see in submissions, but it was also a learning experience in other ways. For instance, I learned that I am not the only one who has felt like they communicated wordlessly with a horse — and that there is actually a whole industry for horse communication and animal communication.
Wish me luck in the writing contest!