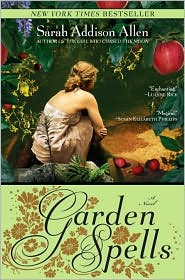 Compared to what I usually read,
Garden Spells
by Sarah Addison Allen was pretty light reading. It was definitely enjoyable, though. A sweet story about sisters in a "different" sort of family, it reminded me a little of the movie
Practical Magic
.
Unfortunately, I read this book
so
long ago now that I don't remember many of the finer points of what I wanted to blog about. So suffice it to say that it was a great lighthearted read, and that I recommend it if you have an evening (or two) that you need to fill with a good diversion!