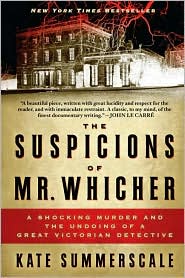 With this post, I am officially caught up with all the books I read during my two-month gap in posting.
The Suspicions of Mr. Whicher
is well-researched nonfiction, but it reads similarly to a novel, much like Erik Larson's
The Devil in the White City
, which I read a couple of months ago. It is the story of a horrible murder — the murder of a 3-year-old child — committed in Victorian England, and the repercussions on all involved (the family and their servants, the detective in charge of the case, etc.).
The story of the murder and the aftermath are well-told. Kate Summerscale does a good job of creating suspense to draw the reader along. The two inserts of pictures — of the family, the house, etc. — also make a nice touch and help to bring the characters to life. There is also a lot of information on the history of detective work and how this case impacted the detective fiction that came afterward.
The book requires careful attention in many places, and therefore (like
The Devil in the White City
) makes for slow going at times, but is well worth the effort!