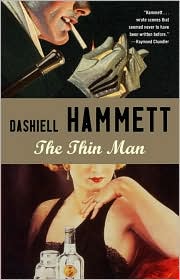 I took a break from my current read,
Traffic
, in order to read this book: Dashiell Hammett's classic murder mystery,
The Thin Man
, which is the
One Book, One Denver
selection for 2008.
I was surprised not only by how much I loved this book, but by the fact that I've managed to never read it before. First of all, I love period novels like this, and
The Thin Man
is rich with 1930s culture. You can almost hear their voices in your head when you read the dialogue; and at least in my head, they sounded just like characters out of an old 1930s movie.
One thing you'll notice in
The Thin Man
is that they are constantly drinking. The story takes place in New York City during Prohibition, and since it was written by someone who lived in New York City during this time, I guess it's probably a pretty accurate picture of big-city American culture during this period.
Besides being a delightful piece of 1930s culture,
The Thin Man
is also a very well-written murder mystery. The book is short but compelling, and Hammett ties up all the loose ends quite nicely.
Of course, now I have to watch the movie, which came out the same year (1934). I'm really looking forward to it!