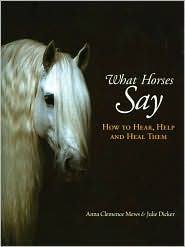 I got interested in learning more about horse communication after reading several stories that mentioned it in
Angel Horses
. Partly because of the connection I seemed to have with my horse (a rescue) and his mother (who was euthanized in front of me that day) from the very beginning, I decided to look up more information on the subject.
What Horses Say
is one of several books on horse communication that I got out from the library. The book is written by Anna Clemence Mews and a horse communicator, Julie Dicker. There were some really fantastic stories about how horse communication has helped Julie's clients' horses, but I was a little disappointed in the lack of insight in how to actually
communicate
with horses.
If you read this book, I would suggest reading it primarily for the stories, and only secondarily for information about horse communication. It's more of a "See how great horse communication is" memoir than a how-to on how to do it. Even so, the stories are wonderful and the advice — to be patient and listen to your horses — is sound, whether you're "listening" telepathically or simply paying attention to body language!