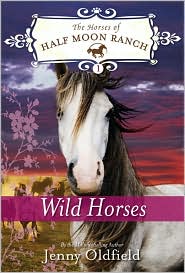 A few weeks ago, I was surprised to get an email from a representative of Sourcebooks, a publisher with a new tween series,
The Horses of Half Moon Ranch
by Jenny Oldfield. She had found me via my
Pony Tales Blog
, and asked if I'd be interested in reviewing the first two books in the series.
Anyone who reads my blog regularly knows that I enjoy children's and young adult books. Plus, like any other horse-crazy girl I read a lot of horse stories when I was younger, so I was interested to see what the girls are reading these days.
I thought
Wild Horses
was a good debut book for the series, although as you'll see in my next post, I actually liked the second book better.
Wild Horses
has all the makings of good juvenile fiction: The main character was a couple years older than the intended readers, the action started quickly, etc. The adults aren't absent, as in many children's and young adult books, but the main character is always the hero of the hour — that is, the adults aren't stepping in to save her. Instead, she's usually getting
rid
of the adults and saving the day herself.
Of course, the book is fairly short (about 150 pages with larger text and spacing), so it didn't take me long to read — but it was kind of like a little vacation, reminding me of when I was a kid and would devour
Black Beauty
and
The Black Stallion
and the other classic horse books in one or two sittings. I'll bet this series is going to make quite a few little horse-crazy girls very, very happy!