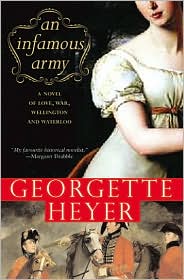 Due to a major
deadline
I was working toward, I haven't had much reading time in the past couple of weeks. As a result I took a lot longer to read this book than I usually would.
An Infamous Army
was written by Georgette Heyer in the 1930s, which I didn't realize until I got it, since I heard about it via
NPR
. The book has its upsides as well as its downsides, the latter of which also contributed to its taking longer for me to read.
It is true that Heyer painstakingly researched the battle of Waterloo for her novel. Unfortunately, I found that her descriptions of the battle and other historical events were not nearly as interesting as the love story that she invented. I personally feel that while Heyer is a wonderful storyteller, she is not quite so good at retelling real historical events in the same voice.
If you prefer painstakingly accurate historical fiction, I think you will like this book in its entirety. If you can do without long, dry descriptions of historical events, I suggest you do what I did, and skim everything but the love story!