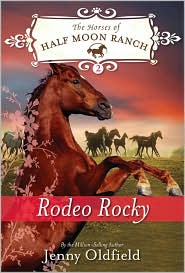 Rodeo Rocky
is the second book in the
Horses of Half Moon Ranch
series for tween girls by Jenny Oldfield. As I noted in my post about the first book,
Wild Horses
, I actually liked this book better for a few reasons.
It was a little less action-packed than the first book, which took place during a relatively short period of time and had more elements of suspense. I actually thought the differences made
Rodeo Rocky
more interesting and a little stronger. The action-suspense story probably was appropriate for the debut book, though, I suppose.
One thing that surprised me was how
Rodeo Rocky
took a stance on some issues, such as the abuse many animals suffer in the rodeo. Within the first few pages, as the main character had started questioning the ways the animals were treated at her first rodeo. Her horror grew and ultimately fueled her and her mom's decision to rescue a wild mustang who had been badly treated in the wild horse races.
The rest of the book continued to impress me as well, as I thought Oldfield did an excellent job of accurately describing Rocky's training and the challenges they faced.
I have to admit that while I liked the first book, and I thought the series would be great for young girls, I wasn't as excited about it from an adult's perspective.
Rodeo Rocky
, on the other hand, I enjoyed thoroughly, and I plan on checking out the other books as they come out.
I also have to say that after reading the second book, I think even
more
highly of the series as books for young girls. I like that the descriptions were realistic, for one thing, but I
especially
like that the series encourages young girls to think about horses as feeling creatures with a right to humane treatment.