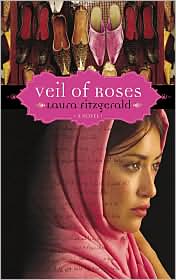 I still haven't gotten back to reading
Traffic
— I have a stack of library books that has been steadily accumulating, so I thought I had better read a few of those before resuming
Traffic
.
Laura Fitzgerald's
Veil of Roses
was a very interesting book, for me, because it did such a good job of demonstrating the cultural differences between Iran and the United States. At the same time, though, I thought it also did a good job of delivering a main character that American readers could find compelling, as well as a story line that satisfies readers with Western cultural values.
Also, although I would technically classify
Veil of Roses
as chick lit, it was very different from most books in that genre, as it dealt with a young woman from a different culture. Most chick lit, it seems to me, deals primarily with young women in professional jobs, either immersed in or just grazing a more upper-class, sophisticated world than what most of us live in.
The book was a fast read — I took an afternoon off of work to finish it, and ultimately read the entire book in less than 24 hours. Definitely a good choice if you need some light reading as a little diversion!