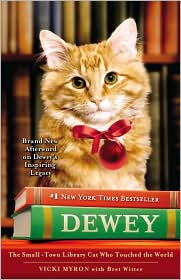 Are there any cat lovers (or animal lovers in general) who read my blog? If so, you will love
Dewey: The Small Town Library Cat Who Touched the World
.
The author, Vicki Myron, tells the story of how she discovered a half-frozen kitten in the library book drop one morning, and how that cat lived for 19 years in her library. The stories are touching, and show how unique this cat was. He was clearly a born library cat.
The stories also remind me a lot of the types of feel-good animal stories you find in Allen and Linda Anderson's books, such as
Angel Horses
.
In addition, Myron tells stories about her life, and what it was like living and working in a small Midwestern town.
This is an amazing book, and I highly recommend it!