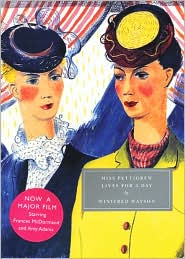 A few weeks ago, my husband and I watched the movie
Miss Pettigrew Lives for a Day
, a hysterically funny British film about a middle-aged governess who stumbles into a nightclub singer's relationship crisis, and spends twenty-four hours in a world of parties, nightclubs, drugs, and sex.
After the movie, I watched one of the special features, and discovered the film was based on a book that was published in the late 1930s. The short video had a lot of interesting information on the book's publishing history and the author, who apparently was quite the businesswoman when it came to her writing. (She was quite ambitious about marketing
Miss Pettigrew
, and sold the movie rights to the book
three times
during her life.)
I was quite delighted to find the book much the same as the movie — a few differences in characters and scenes, but nothing major. Most importantly, the book had the same quick wit and hilarious dialogue that makes the movie so delightful.
Because so much of this book is dialogue, it is a fairly quick read. This is one of those rare cases where I think watching the movie first was a good thing — the movie is that true to the spirit of the book, and I think the movie is more fun when you don't know what is going to happen next!