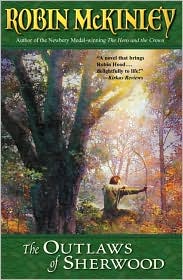 A few nights ago, I finished
The Outlaws of Sherwood
by Robin McKinley.
I was interested in reading some more by McKinley after reading
Sunshine
a few months ago. I really loved
Beauty
when I was in high school, so I decided to try another one of her fairy tale retellings.
I ended up liking
The Outlaws of Sherwood
very much. I like McKinley's writing style, but it does take some getting used to — at the beginning of the book, you notice how long her paragraphs are and how much description there is, but by the end of the book the only thing you notice is how
fantastic
the description is.
I have to admit I don't know the Robin Hood stories very well — just what Disney ad Hollywood have relayed in their film version — but I enjoyed the book anyway. There were a few recognizable scenes where I could appreciate how McKinley tweaked the normal tellings of the story, but I never felt like I was missing something because I didn't know the myths.
Definitely a fun book. I will have to reread
Beauty
sometime (as it has been years since I've read that book) and see how it compares!