I love Christmas books, especially children's Christmas books, which is why we already have a collection of them even though we don't have any kids yet. I bought two children's books to add to our collection this year:
Rocky Mountain Night Before Christmas
by Joe Gribnau and illustrated by Salima Alikhan, and
The Gift of the Magi
by O. Henry and illustrated by P.J. Lynch.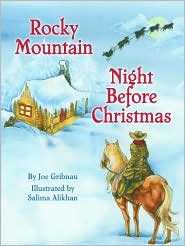 This picture book is a really clever spin-off on one of my all-time favorite Christmas books,
The Night Before Christmas
. But instead of a family at home asleep, this one is a cowboy who is out on horseback when Santa shows up.
It's a hilarious story, in which Santa gets lassoed before the cowboy recognizes him — and then they "have a nip" and share cowboy stories. The illustrations are really beautiful too — gorgeous realistic pencil drawings with vivid watercolors. I particularly like the realistic images of horses.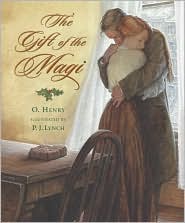 I can't remember when I first read this short story of O. Henry's, but since I was a kid
The Gift of the Magi
has symbolized to me what Christmas and gift-giving is all about. If you haven't read the story before, you can find the full text
here
. (There was also a neat editorial about the short story this year, available
here
.)
But I highly recommend this picture-book version, because of what a beautiful little book it makes. The watercolor illustrations are beautiful and really capture the beauty of the story itself. I am sure that when we
do
have children, this will be a cherished book — and perhaps the beginnings of a family tradition!
What books are you reading to celebrate Christmas?