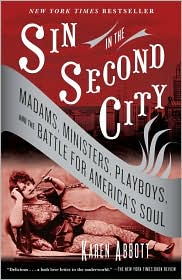 A popular form of literature lately seems to be nonfiction written in novel form.
The Devil in the White City
and
The Suspicions of Mr. Whicher
, which I read and review on this blog some months back, are a couple of examples.
This book was very similar, except I think I might have liked it even better:
Sin in the Second City
, by Karen Abbott. It felt a little more easily readable than the other two, especially
The Devil in the White City
, which was an extraordinary book but also required a lot of concentration. Abbott's book wasn't exactly light reading, as it was still pretty heavily researched, but the paragraphs were shorter and the writing seemed to flow a little more easily.
Sin in the Second City
is about the downfall of prostitution in Chicago in the early 20th century. Specifically, the book deals with one brothel in particular, the famous
Everleigh Club
— supposedly, the basis for the term "get laid" — and its madams, Minna and Ada Everleigh (an assumed last name).
The book is an extremely detailed and intriguing look into the world of prostitution, back in the days where the unofficial policy was segregation, allowing brothels to exist even though they were technically illegal. A very interesting glimpse into the history of prostitution, and a book I would recommend for anyone who enjoys these nonfiction novelizations!