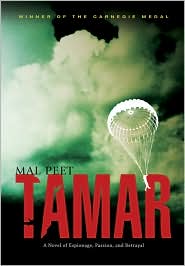 I don't remember where I heard about this book —
Tamar
by Mal Peet. I thought it was on NPR, but I couldn't find the story just now when I looked.
Regardless of where I heard of this book, my source in no way prepared me for how good the book would be. It is an excellent story of two men involved in the Dutch Resistance during World War II, interspersed with the modern-day story of the granddaughter of one of them. It's a mystery that bounces back and forth between 1944 and 1995, only the reader has the advantage of knowing what happened a step ahead of the granddaughter.
Another thing that I like about this book is that it has an ending that makes you think — a cliffhanger ending, in a way. I know some people don't like that, but if there's a purpose in it I really do. At the end of this book, you do get to find out what really happened, but it doesn't tie everything up into neat little bows — some of it is left unresolved, for you to think about.
This is a beautifully told, well researched book about World War II and its repercussions for the generations that followed. I highly recommend it!