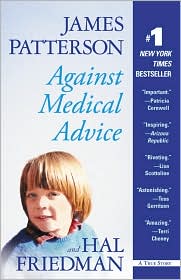 I wasn't sure what I would think about
Against Medical Advice
, which is James Patterson's first nonfiction book. He wrote it with his friend Hal Friedman, about Hal's son Cory. Cory grew up with
Tourrette's
and
OCD
, and this book is the story of what he and his family went through.
Although
Against Medical Advice
was not written by Cory, it is told from his perspective. I find that a bit odd, since Cory is still alive. Supposedly, he has approved the book as an accurate representation of what it was all like for him — but since the book isn't ghostwritten with Cory's name slapped on the front of it, I'm honestly not sure what to think of it.
I haven't read anything else by
James Patterson
, though I've seen
Along Came a Spider
and
Kiss the Girls
. I wasn't sure what to expect, but
Against Medical Advice
is a pretty easy, fast-paced read — perhaps too much so at times. It does have a nice climax and ending, though. And I like what the authors are implying (and what Hal Friedman actually says in the afterword): that it seems like the constantly changing (and often experimental) medications actually worsened Cory's symptoms, rather than making them better. I'm a firm believer that in our society we are way too quick to medicate, so this book really rang true for me.