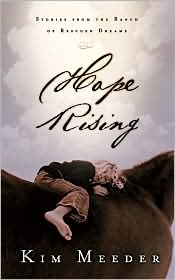 I bought Kim Meeder's
Hope Rising
months ago, but it just joined the stacks of books I have yet to read, and I forgot about it until just the other night. I picked it up Saturday night after finishing
Being Mrs. Alcott
, and finished it Monday evening — another quick read (yay!).
I have to admit I didn't enjoy this book as much as I thought I would, it being an inspirational book about horses and horse rescue. My problem with it was a very heavy religious theme that seemed to get more prominent and preachy as the book wore on. In fact, the last two chapters were dedicated solely to convincing the reader of God's hand in engineering... well, everything.
There's only so many times I can read, "It happened because the Lord willed it to," before I get really tired of hearing it. And since this book proclaimed that once, on average, per 2-4 page chapter, I was tired of it
long
before the last two chapters. So, needless to say, they didn't sit well with me at that point.
Since there was nothing on the back cover (or anywhere else) to indicate the heavy religious theme, I think the book was marketing itself in a misleading way, which was probably what irked me the most. I probably wouldn't have bought it had it been marketed honestly.
The final straw was that the book dedicated a full page in the back to soliciting donations. Now, don't get me wrong, I don't disagree with what the author is doing with her ranch — I think saving horses and helping children work through issues are noble purposes, no matter
what
the religious implications. But by including this page at the back, the author made it seem like her biggest goal in publishing this book (besides converting her readers) was to beg donations. Not a very flattering picture to paint.
All my griping aside, though, the stories in the book
were
very moving; several of the rescue stories actually brought tears to my eyes. I am therefore giving the book away on my horse blog this
Valentine's Day
, in the hopes that it will find a home more appreciative of it than I am.