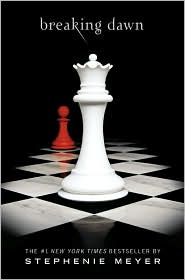 As I expected, it didn't take me long to read
Breaking Dawn
, the fourth and final book in Stephenie Meyer's Twilight Saga. I actually stayed up pretty much all night to read it Friday night, slept a little bit Saturday morning, and then finished it Saturday evening while I was babysitting.
I mentioned in my post about
Twilight
that my NaNoWriMo companions had had a lot of negative things to say about the saga. They particularly criticized
Breaking Dawn
, claiming it was a train wreck of a plot. I have to say I disagree. I thought it was fabulous. Meyer had been building up to something big for three books — there's no way she could have ended it with anything less... astonishing, in my opinion.
Anyway, I am not going to say too much, because I don't want to give it all away, but let me just say that certain plot developments that seem kind of weird at first actually work quite well. Everything falls into place at the end, which is pretty impressive considering how complex the plot is throughout the three books. It is a fantastic conclusion for a fantastic series of books!